Two

Stage Two cylinder Compressor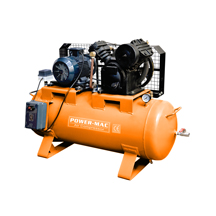 Description
Two Stage Air Compressors are designed for medium pressure application and heavy duty component to give maximum performance. These Compressors provide the quality and performance that are ideal for most application.  Two Stage Air Compressor can be availed in customized specifications as per the demands of the customers. Double Stage Air Compressor is extensively demanded by clients for its balanced, durable and easy operating interface.
These compressors are used where the pressure requirements are up to
9 Kg/Cm² to 35 Kg/Cm² air pressure.
Applications
Pnevmatic Press
Textiles
Service Station
Ceramic
Road Building M/E
Pnevmatic Tools
Foundries etc.
Standard Accessories
Air cock
Drain valve
Safety valve
Pressure guage
Motor pulley
Motor slide rail
Air suction filter
Auto switch
Belt guard
Optional Accessories
Motor
Startor
V-belt
Air dryer
Moisture separator
Auto drain valve

Specification